Hi All,
There was a Chinese jian that recently sold for over $4,600.00 USD on eBay (
http://cgi.ebay.com/ws/eBayISAPI.dll?Vi ... MEWAX%3AIT
), that the seller claimed to be late 18th century. He included documentation from a book,
Weapon A Visual History of Arms and Armor
, that showed a similar sword, which was purported to be from Qianlong era. In my opinion both the seller and the author are incorrect and the swords from the auction and book appear to be from the late Qing - Republic period.
My reasons are as follows:
1. The tip of the blade is much too pointed and the length from the blade to the tip is too long as well. These types of pointed jian tips appeared in the latter Qing - Republic period.
2. The guard and pommel featuring the Ace of Spades style appeared later in the Qing - Republic period.
3. The carving of the fittings are much too crude to be from Qianlong era. If one notes the fittings on the scabbard appear to be open-work. One would expect high quality open-work carving, which these are not. In fact file marks can be seen all over the top of the fittings.
4. It appears that the blade wasn't even fully finished or polished, as one can see file marks all over the blade in which the designs were inlaid afterward. I have inspected photos from
Book 56 Armaments and Provisions from the Palace Museum
of daos and jians from Qianlong's collection and it appears the blades were all completely finished before the designs were inlaid on them.
To me the above are all signs of a later piece.
If one looks at the guard below from a jian for sale by a dealer in Holland one can easily see how much more of a high quality fitting this is in comparison to the one on eBay.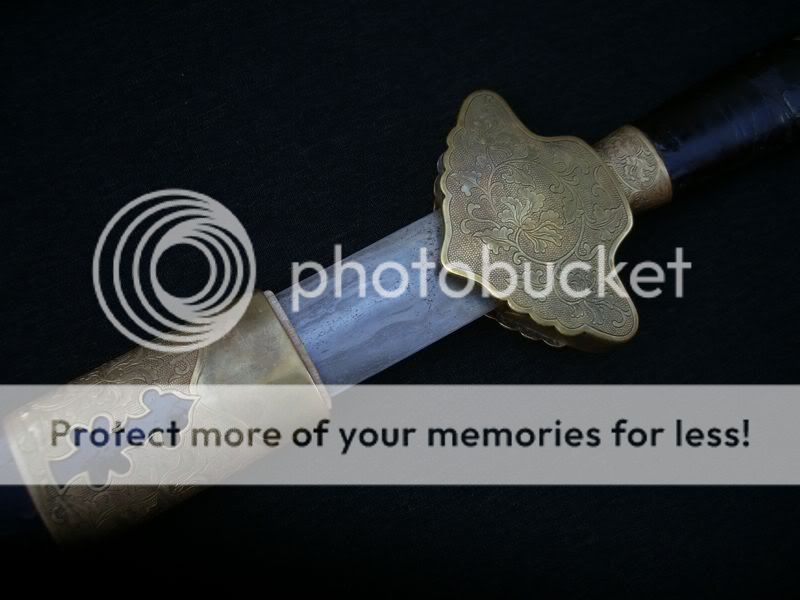 Additionally, when I asked the seller a bunch of questions about the sword well in advance to the close of the auction he never wrote back, nor were any questions answered in the listing. To me this seemed like someone was being ignorant on purpose. In any event I'd love to hear your opinions.