I have not seen a great many antique Chinese jian in person, as they are fairly hard to find. However, I have seen many pictured in books and photos from different web sites where they were either for sale or in someone's collection.
I have noticed many of the longer antique jian from the Qing - Republic periods have what is characteristically known as the
Ace of Spades
designed guard, though to me the pommel looks more like an
Ace of Spades
. By far of the jian I have seen most are singles. I have seen approximately 10 double sets, but for the most part these are shorter blades, 18" - 24" long with one side have a diamond raised section in the middle and the other side being flat to accommodate both blades in one scabbard.
Recently, I was able to see a set of the more uncommon double jian in that the lengths that are preferred by Westerners, 27" +. This set has 31" blades with raised diamond sections on both sides of each blade, though the interior of the handles are flat, while the exterior handles are more round. The blades are sharp. These are not some flimsy aluminum Wu Shu swords!
With the scabbard the set weighs about 4.5 pounds, with each blade about 1.5 pounds +. My scale is a typical bathroom scale though, so I hope to weigh them on a more accurate postal scale.
The public side of each blade has a different scene, one showing a bird in a tree and the other looks like chrysanthemums, while the interiors have Chinese characters. Two of the bottom characters on the top jian are barely readable. I don't know what they mean, but I would imagine they mean something like
Green Dragon Sword
or something like that? It seems like a lot of the Chinese characters place on swords from these periods have Buddhist or Taoist inscriptions or describe the attributes of the sword or owner. These are typically placed on the forte of the blade. Can anyone provide a translation?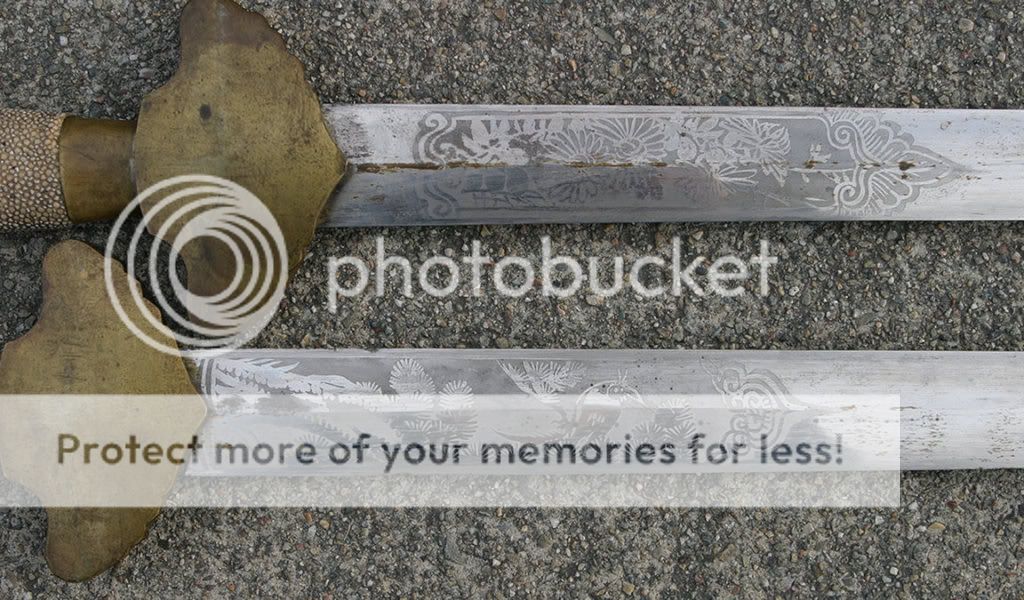 Perhaps if someone has seen more of these types of swords they might have more to add. In the book
Iron and Steel Swords of China
many of the jian pictured in the Republic section have similar designs as these. The fittings are plain, with guards and pommels having an
Ace of Spades
style with designs on either a flat or a raised diamond middle section of the forte.
I wish I could understand what the author wrote in his book, so I could further educate myself on these swords.